Chiropractor Rocklin CA
Welcome to Better Health Chiropractic! Located in Rocklin CA and serves the greater Northern California area. Our highly trained Rocklin CA Chiropractors and Staff have helped thousands of children and adults recover their health. We have a practice focused on helping those who have become discouraged or frustrated with their chronic health problems. Our patients range in age from newborn Infants to Super Seniors.
Our knowledgeable and experienced team knows how to help. Dr. Marianne Abate, DC and Dr. Scott Beavers, DC combine extensive knowledge and experience to help regain health. Many of our patients have been from doctor to doctor with no real help. They have tried medication after medication with no success. Often times, they have been told:
"Nothing else can be done, you will have to learn to live with it." Or that their children "will grow out of it".
Your Healthcare Goals. Our Team.
We strive to find the underlying cause and not just cover up symptoms. We help find and remove the roadblocks to your better health. Our Doctors incorporate many of the newest, innovative, leading-edge forms of care to help patients regain their health and wellbeing.
Combining the best aspects of Functional Neurology, Neuro-Nutrition, and Sports Science with our extensive chiropractic experience to provide patients with exceptional personalized care. We support brain development, brain health, and body wellness.
Our practice is focused on Neurologic Development and Neurological Degenerative Health Conditions. This includes children with tongue ties, colic, reflux, sensory processing disorders, and neurodevelopmental delays. Adults with nerve damage, peripheral neuropathy, balance problems, brain health/concussion care, and neurologic degenerative conditions.
If you or a loved one is struggling contact us to find out how we can help. Schedule a consultation at Better Health Chiropractic today.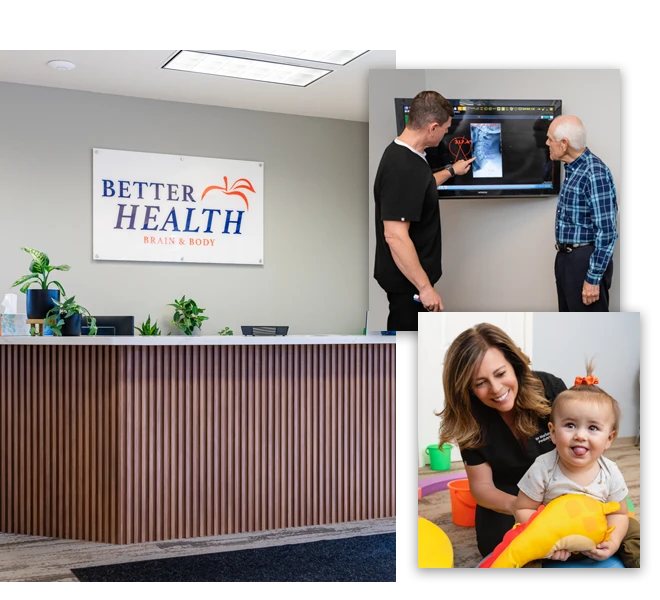 How Can Better Health Chiropractic Help You?
Many people dismiss chiropractic care as a remedy for physical aches and pains (back, neck, head, and much more) but when integrated with a functional neurological and brain-based understanding of health, chiropractic care is the connection to healing and whole-body health and wellness.
The Training Of Our Chiropractors
Dr. Beavers, D.C., DACBSP and Dr. Abate, D.C., C.A.C.C.P. have extensive training and education that provides the foundation of their unique integrated approach to your best health. Established in 1993 in Rocklin CA, our doctors completed their Doctorate of Chiropractic from Palmer College of Chiropractic in Davenport, IA. They have continued with post-doctorate certifications focused on sports, pediatrics, functional neurology, and wellness related to brain-based care. Dr. Beavers, D.C., DACBSP is certified as a sports practitioner with American Chiropractic Board of Sports Physicians and utilizes his knowledge of sports science to not only help athletes but also patients with complex extremity conditions such as shoulder and knee. Dr. Abate, D.C., C.A.C.C.P. is certified by the International Chiropractic Pediatric Association with education above and beyond her chiropractic degree relevant to the needs and care of pregnancy and children. Both doctors utilize special education in functional neurology for the assessment and treatment of patients. Dr. Beavers', D.C., DACBSP practice emphasis is neurodegenerative conditions such as neuropathy combined with his sports science training enables him to help many patients where traditional care has failed. Dr. Abate, D.C., C.A.C.C.P. focuses her practice on pregnancy and pediatrics. Her certification and post-doctorate classes in neurodevelopment enable her to help many patients from newborns suffering the effects of tongue-tie to young children. Spanning all generations and a brain-based approach allows our patients to achieve life-changing results and a better quality of life.
Dr. Abate, D.C., C.A.C.C.P., and Dr. Beavers, D.C., DACBSP have served the Rocklin CA community with traditional spine-based chiropractic in a family-focused wellness approach since 1993. They have helped many attain life-changing results with their specific analysis, adjustments, and spinal corrective techniques tailored to each individual patient.
As our Doctors continue to educate, they have incorporated integrative techniques and technologies that extend beyond pain and into the healthcare model of functional wellness and brain-based health. Their 25+ years of experience and professional expertise enable them to serve the patient population from newborns to the elderly in a patient-centered, personalized approach to optimal health.
Better Health Chiropractic provides a truly unique experience to help you regain your health and attain optimal wellness. We invite you to find out why many chose us not only as their chiropractor but their trusted healthcare advisor. Take your first step towards a comprehensive healthcare experience and assessment that provides life-changing results.
Best Of The Best: 11 Years In A Row!
For eleven years in a row, we have been voted "Best of the Best" in Placer Herald's annual contest. A huge THANK YOU to all our patients who took the time to vote. We appreciate your support!